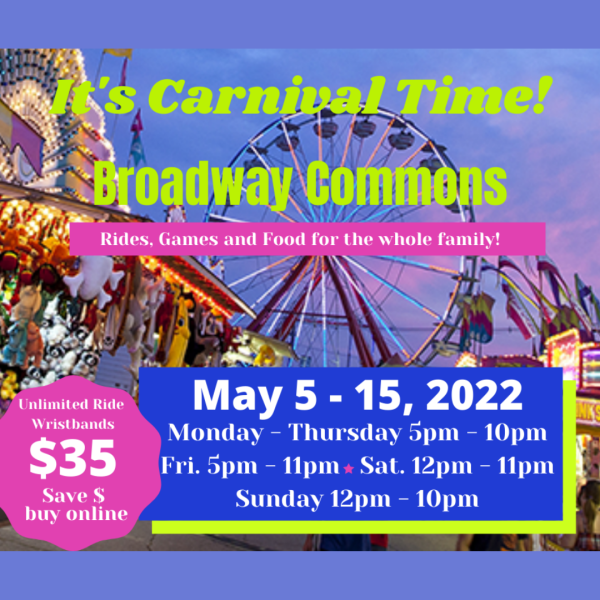 Carnival
May 5, 2022 - May 15, 2022
It's carnival time!!
Enjoy rides and games for all ages and deep-fried treats, sweets, and other carnival eats.
Monday-Thursday: 5-10 pm
Friday: 5-11 pm
Saturday: 12-11 pm
Sunday: 12-10 pm
Event admission and parking are free.
Unlimited ride wristbands (for riders 36 inches and taller) are $35 on-site, while supplies last, or online before 5 pm May 5 for $29 each, 2/$55, or 4/$99.
Ride tickets at the carnival are $1.50 each, $30/20 tickets, or $60/50 tickets plus one free ride. (Rides take two or more tickets each.)
Pre-sale special: $45 for 50 tickets (includes one free ride).
Visit the website for coupon savings: $5 off regular-price ride wristbands, $5 off a 50-ticket Super Saver Family Pack, and $2 off a $10 food purchase.
Parent/guardian supervision is required for ages 17 and younger.
Click HERE to preorder tickets or call 866-666-3247 for more information.